Have you ever wondered how to teach your kids to be respectful and kind in a fun way — that would make them a joy to be around?  How about teaching kids table manners?  Ever wish you could sit through just one family dinner with everyone's napkin in their lap, the food going around the table counterclockwise — and without a burp?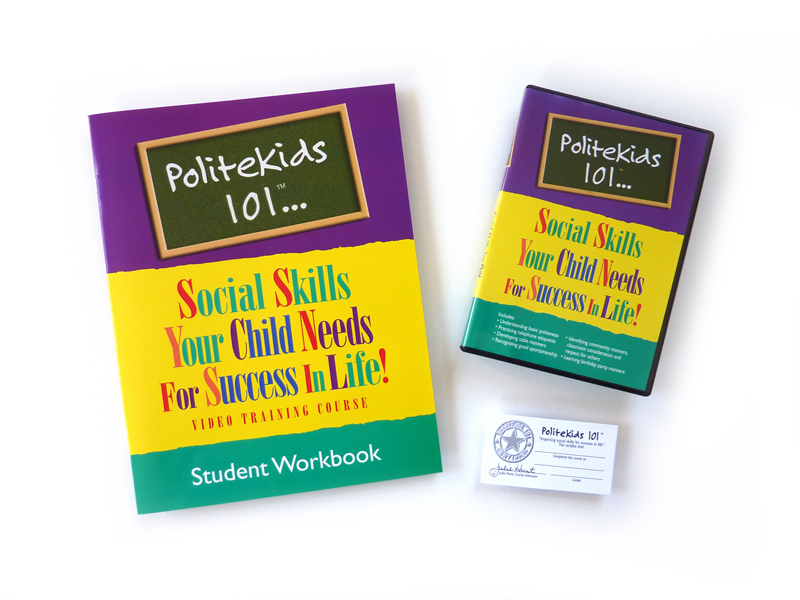 Teaching manners for kids just got easier — with Polite Kids 101 to point him in the right direction! All kids need a little refinement now and again — making this perfect for your elementary-to-middle-school children.
I wrote this training when my 8 year old son turned his lasagna plate up and licked it — right at the dinner table!  He said, "Mom, your lasagna is delicious!"
I didn't know whether to feel complimented or horrified!
I quickly asked, "Do you lick your plate in other people's homes?"
He confidently replied, "I do if it's good!"
I turned to my husband and said, "I think I just got my next idea for a DVD training!"  No kidding, that is EXACTLY how it happened.
And I laugh about it now, but I realize, as a mom to grown kids — and now grandchildren — if we want our children to live polite, respectful lives, we've got to start the encouragement at home.  Listen to me now: manners and etiquette begins with you, the adult in the kid's life.  We learn it and model it to our children.  That's the best teaching they'll get.
Have you heard this phrase? "More is caught than taught."   Our children — like it or not — are looking at us and doing what they see us do.  Don't blame it on others; teaching etiquette to kids starts at home.
I did it!  I changed some things at our dinner table.  I also researched the things I wanted my children to know and started practicing it with them and now I have it as a manners DVD for you to watch and go through a workbook with your kids!  It couldn't be easier!
This 43-minute instructional DVD program will teach your shy child how important good eye contact is AND show your sassy child how uninviting it looks to have disrespectful behavior.
Topics include:
Polite and respectful living
Introducing yourself to others
How to set an American family style table
Table Manners — before, during and after the meal
Classroom etiquette, birthday party manners and good sportsmanship
With Polite Kids 101, you are cordially invited to start changing your family's behavior — today!