Our ALL NEW Safe Kids 101 Training program is shipping NOW! Get your copy today! If you're a current leader using our previous program, contact us for a discount you won't believe.
Kids typically think they are ready to stay home alone and parents wonder if it's really okay to let them.  You can provide a service to your community by teaching a home alone class that will help kids take the next step in independence and help parents rest in the knowledge that the Safe Kids 101 training course will help their child stay safe at home and in the community.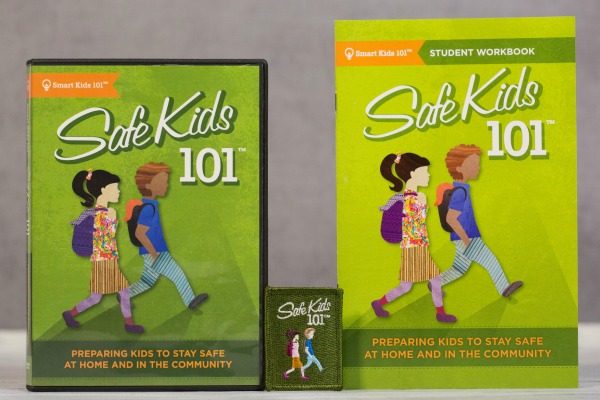 In this 58-minute DVD program, I go over what all parents want their children to know about important safety principles. This course can be easily taught in one 2-3 hour session or several 30-minute sessions over a period of weeks.  As the course facilitator, you add the suggested games and hands-on activities — and you've got a superior program that students will love and parents will appreciate as their kids retain this critical information.  And you give their friends and family an incredible gift: peace of mind, knowing the children are safely prepared for emergency scenarios!
Topics Include:
Responsibilities when staying home alone
Simple first aid — including cuts, burns, and even a demonstration on how to do abdominal thrusts (Heimlich maneuver) for choking victims or when you're home alone
Identifying fire safety rules
Understanding safety in unfamiliar scenarios: around guns, online safety, and near aggressive dogs
Knowing the truth about abuse, abduction, and stranger danger
An all-new segment on digital safety and how to navigate the online world safely
It's not the same world we grew up in, but it's okay… Safe Kids 101 will help kids and parents be more prepared for what the world has to offer.
This is an excellent companion course with Babysitting 101.  It's a good idea to make sure kids are confident in self-care and being home alone BEFORE they become babysitters and get paid to take care of other children.
What a wonderful way to serve your community by sponsoring this program to teach kids safety. Just click on the "Buy it Now" button to get started.