9 Books to Teach Your Child Manners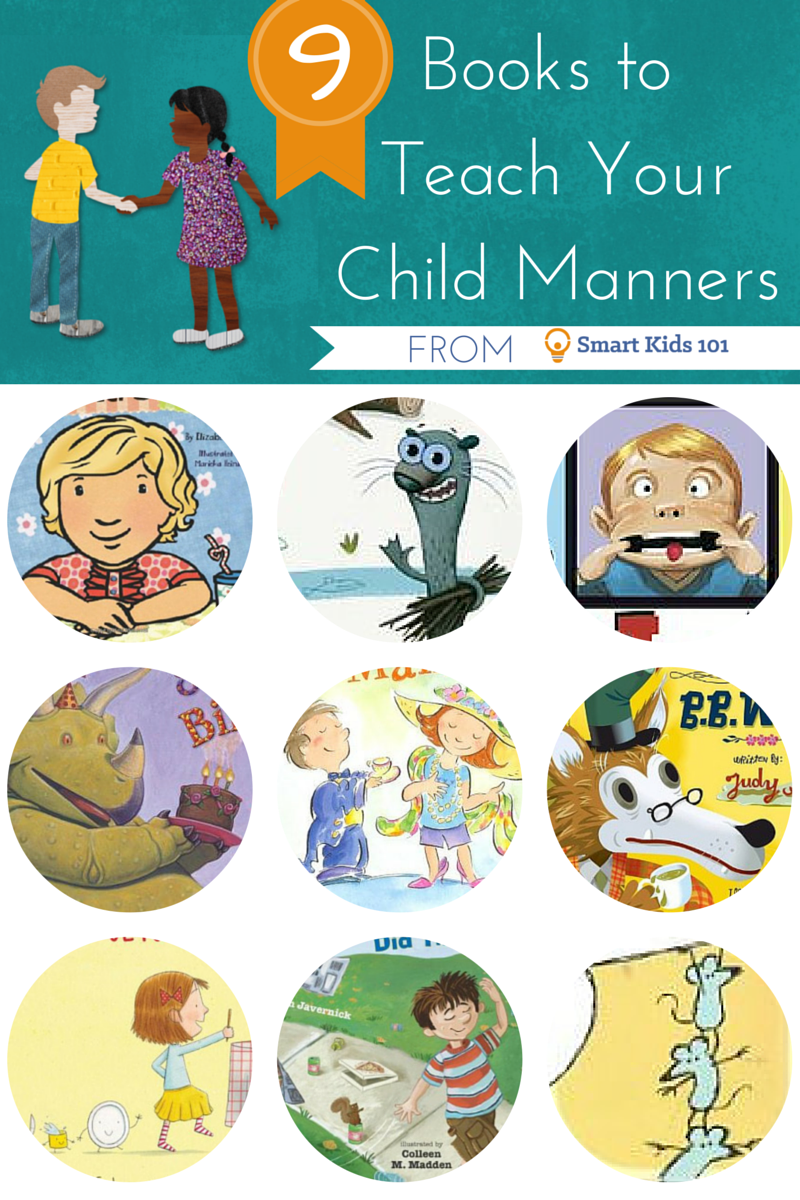 Teaching your child manners can seem daunting. Where do you start? What's important? How do you keep it from seeming like a stogy old set of rules that don't really apply anymore?
Because manners and etiquette ARE about so much more than that.
We've talked before about how using good manners is simply about showing kindness to others around us. It is about them learning to honor other people and treat adults and other children with respect. Bottomline is good manners make all the difference in how your kids will succeed socially in the world around them!
When you start instilling this value — showing kindness to others — at a young age, amazing things can happen for your kids! As they learn to greet others with a smile, ask for things nicely and at the right time, and behave sweetly in public… well, others will take notice and want to be around them. (Ahem, and that's a nice perk for the parents, too… just saying.)
But how do you do it? Well, it's no secret that the Polite Kids 101 program is a great start. You can use the e-Course to watch at home instantly (Polite Kids 101 – online) or send your child to a class (Polite Kids 101 – local class), and he or she will certainly learn how to get off to the right start when it comes to being polite.
Another way to reinforce these shiny new manners they've learned is by reading picture books together.
I want to make it easy for you, so I sifted through more than a hundred recommendations and narrowed it down to the TOP NINE books that help your child learn manners.
---
The Top 9 Books That Teach Your Child Manners
I am focusing on books that emphasize what TO DO rather than a big list of what NOT TO DO (which feels negative AND can sometimes seem more like a list of suggestions for terrible behavior my kids haven't thought of on their own yet. Yeesh.)
So without further ado…
---
1. Best for Teaching Kindness

Do Unto Otters: A Book About Manners
 by Laurie Keller
Laurie Keller is a favorite in our family. (On a lucky whim, we picked up Arnie, the Doughnut
on audio book from the library. It has become legendary in our house!) This adorable take on the Golden Rule did not disappoint. Great illustrations and a lot of concrete examples, which can be helpful for kids. (Ahem. And some grownups.)
---
2. Best Board Book

Manners Time (Toddler Tools)
by Elizabeth Verick, Ill. by Marieka Heinlen
I liked how this book approaches manners in a simple way — start with a smile, be sure to say please, things my toddler can wrap her head around and start practicing now. Yesssss.
---
3. Cutest Story about Setting the Table

The Table Sets Itself
by Ben Clanton
You wouldn't expect a story about setting the table to be much more than mundane. But this book turns it into the cutest story that keeps kids on the edge of their seats and subtly underscores the value of all the pieces we use in our table setting. And there are plenty of puns, too. Bonus!
---
4. Most Focused

Time to Say "Please"!
by Mo Willems
Mo Willems. That's probably enough said. But in a sea of books that cast the manners nets wide and try to teach everything at once, I like how this book focuses just on saying "please."
---
5. Best Variety

Manners Mash-Up: A Goofy Guide to Good Behavior
by various
I loved the concept of this book. They took lots of well-known kids' authors/illustrators and assigned them each a manners topic to illustrate. So each of the subjects is covered by just one simple spread. You can talk over each page with your child, and it can be read easily in several sittings if attention spans dictate. The illustrations are fun and cover a wide range of topics.
---
6. Best Series
How Do Dinosaurs… Series
by Jane Yolen and Mark Teague
I love how this simple series follows the same format in every book, so kids kind of know what to expect. Particular titles to pay attention to are How Do Dinosaurs… "Play with Their Friends?" "Eat Their Food?" and "Say Happy Birthday?" Each goes through some typical bad behaviors of a child dinosaur (which I assume can be easily transferred to any child that occasionally roars). I like to punctuate each example of a poor choice by saying "no!" to reiterate that it's a bad behavior. Then the book goes on to give great examples of what a child (dinosaur or otherwise) should do in such situations. It's always a crowd-pleaser and would be great for siblings of different ages.
---
7. Most Redemptive Story
Mind Your Manners, B.B. Wolf
by Judy Sierra, Ill. by J. Otto Seibold
Under the guise of whimsical illustrations, kids learn an exercise of manners and restraint. I mean, I would assume that the Big Bad Wolf isn't often invited to tea parties and expected to be on his best behavior. But he does it brilliantly, encouraging kids that with a little help, anyone truly can behave properly.
---
8. Expert Advice

Emily's Everyday Manners
by Peggy Post & Cindy Post Senning, Ed. D., Ill. by Steve Bjorkman
When it come from the mouth of the Post family (yes, as in Emily Post), it's basically the manners gospel. But this story is also refreshingly fun and accessible. They may be the authority on manners and etiquette, but the Post family also shows that they understand how to approach it best for kids — with easy-to-follow suggestions that show the motivation of kindness in all.
---
9. Honorable Mention

What If Everybody Did That?
by Ellen Javernick, Ill. by Colleen M. Madden
I felt like this book required a little more explanation on each page than I would like, but my 5-year-old LOVED it and wanted to read it again immediately. That's not entirely typical in our house, so this one at least deserves an honorable mention. You may have to tell your child what's going on in each illustration or why it's not a good idea, but the message behind this book is solid. Part of behaving in a mannerly way is because if everyone decided to be sloppy, well, we'd have quite a mess on our hands.
With a solid foundation of good manners, your child will be equipped to better interact with children and adults with confidence and respect.
So, what did I miss? Do you have any manners books that your family has enjoyed? Please share below in the comments. I love to hear from you!
(NOTE: Affiliate links included because we're Smart Kids, too! 😉 )
---
READ NEXT: Don't Pick the Flowers! And Other Yard Manners for Kids
Want to give your child a step towards a healthy social life and self-confidence in every situation? Try out these wonderful Polite Kids 101 classes today! You and your child can enjoy learning about manners online or at a local class!