Best 5 Babysitter Tote Bag Must-Haves To Make You Great with the Kids!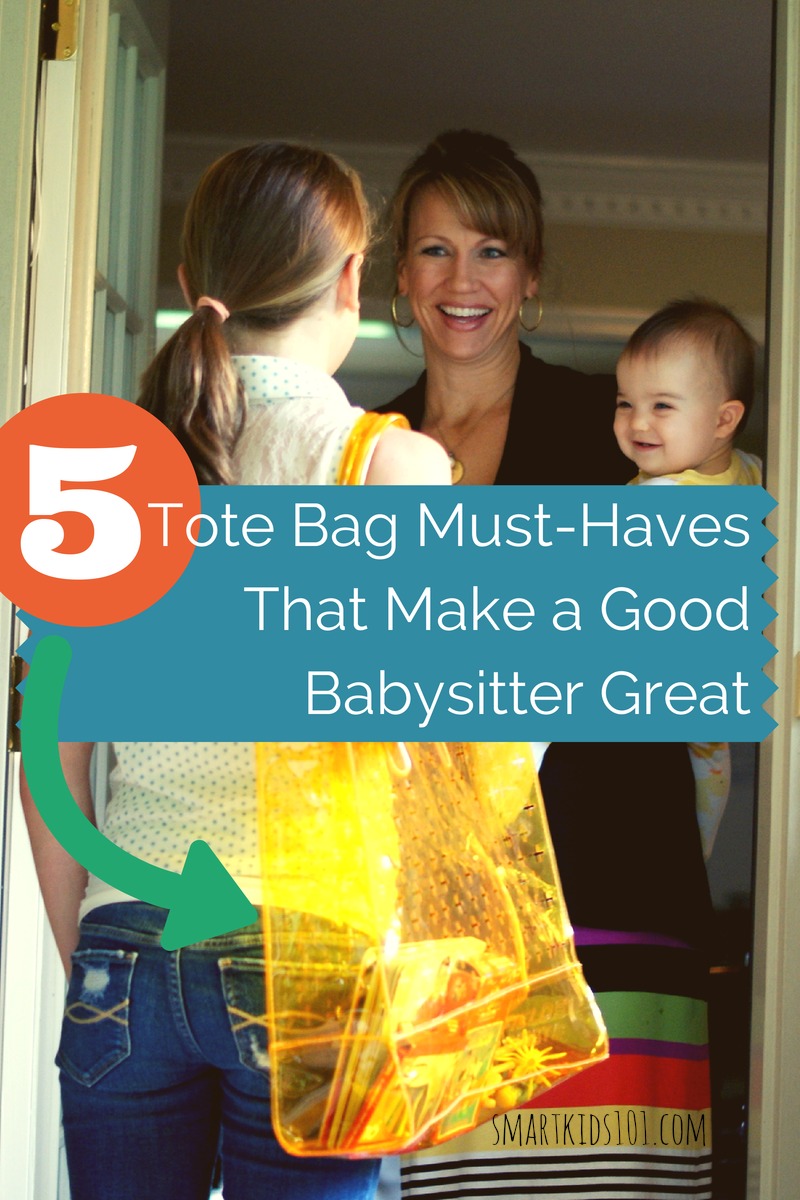 As a child, you could typically find me with my nose stuck in a Babysitter's Club book.
Those characters were my friends, people: the responsible leader Kristy, Claudia the artist, the uber-cool Dawn… and I totally identified with the shy bookworm Mary Ann. And because there were approximately 11 billion books in the series, I was never bored. (Super Mystery, anyone??)
One thing that always fascinated me in the stories was the Babysitter Tote Bag they would take with them on jobs. It was so simple and SUCH a good idea!
Then I began babysitting a few years later, bringing my own babysitter tote bag along with me. And I learned first-hand — there's just something special about anything a Babysitter brings to the job. (Psst – and don't forget about the one thing every great babysitter needs. It's free!)
One of my main babysitting clients owned a toy store. I realize that sounds like an exaggeration. It's not. Their mother ran the local toy store, so you can probably imagine what an amazingly well-stocked playroom they had. And yet, somehow, their kids still eagerly greeted me with a "what'd ya bring??"
Think about it as your opportunity to become a Mary Poppins with her carpet bag full of wonders. Those items contained in a Babysitter's tote bag are truly magical!
---
5 Babysitter Tote Bag Must-Haves
In the Babysitting 101 program, we recommend 5 Must-Haves for every Babysitter's tote bag. Watch this short video from the creator of our babysitter training course (my Mom!) to find out the scoop:
In case you are somewhere you can't view it right now, here's the recap. (But be sure to watch it later!) The 5 Must-Haves for Every Babysitter's Tote Bag are:
---
1. The Babysitting 101 Workbook
Your workbook is your lifeline if you run into any problems while you're babysitting. It'll remind you of all the great stuff you learned during your babysitter training course.
But how do you get your workbook? You take the Babysitting 101 class, of course! There are a couple of easy ways to do this. Find out more by checking out our babysitter training course here!
---
2. Flashlight
This can be a small plastic one from the store or the one on your smart phone.  The important thing is to have access to a flashlight in case the electricity goes out in the home you're babysitting in.
When it's dark in an unfamiliar house, it's a lot easier to find one in your own bag than to try figuring out where the parents keep their flashlight!
Or asking a two year old where one is. I don't recommend that.
---
3. First Aid Kit
Every babysitter needs simple first aid supplies with them. A dark wash cloth for easy clean up and a small baggie for a makeshift ice pack. Pick up some fun character bandages in different sizes and some non-latex gloves, and voila you've got a simple first aid kit.
Wondering why we suggest a dark-colored wash cloth? Find out in the Babysitting 101 training!
---
4. Age-Appropriate Books
Reading should be a must-do activity on your babysitting job.  It's so good for children of all ages to develop a LOVE for reading.  If you babysit a child that enjoys reading, you'll be able to pass a lot of time which will help your job go by faster.
Stop by your local library before your job to pick up some books — your childhood favorites as well as some from the list we give you in your babysitter training course!
---
5. Age-Appropriate Toys
Since the kids you're taking care of have toys, think outside the box on this one.
A 6 year old may have puzzles of his own, but you can teach him how to make a puzzle out of a greeting card! Bringing a new-to-them board game can be a great way to entertain older kids. And in the summer time, what age DOESN'T like blowing bubbles outside, watching them whirl by in the breeze?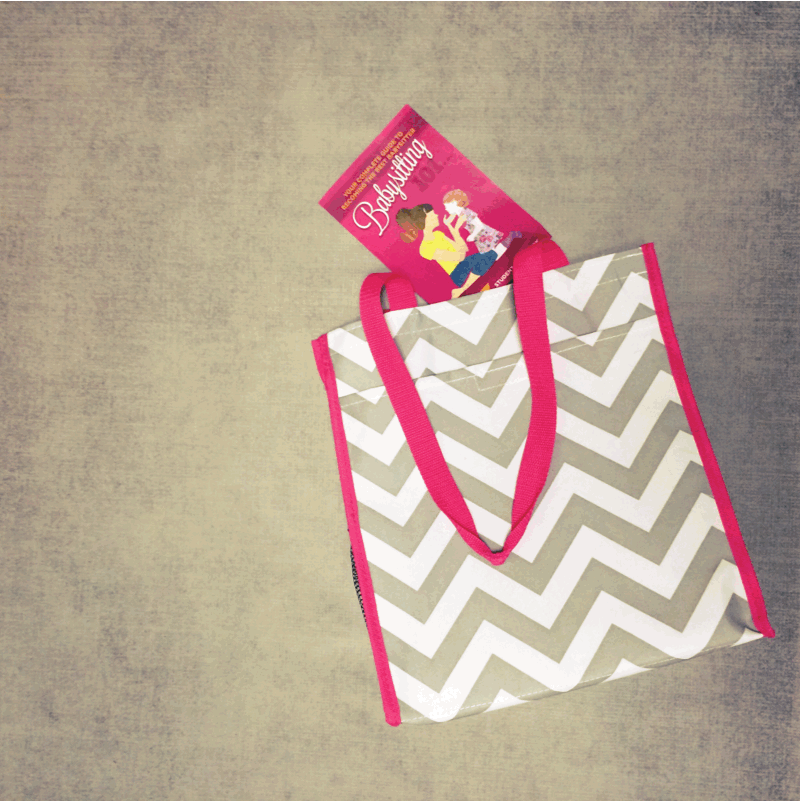 If you're wondering about more details — like what books or toys kids adore, be sure to take our babysitter training course, Babysitting 101, where you'll learn even more about how to become the BEST babysitter!
What would you grab for your totebag? A favorite children's book? A toy you just LOVED as a child? Share your ideas below in the comments!
(Shared at Project Inspire{d})
---