Safe Kids 101 Training Course
Picture this: a classroom full of eager pre-teens ready to learn best safety practices for the home and in the community!
Enter you: A completely trained Safe Kids 101 Leader, equipped with everything you need to offer a complete curriculum. The DVD host, Julie Hunt, does most of the teaching for you. She guides you and students through a safety training that parents love and kids actually enjoy!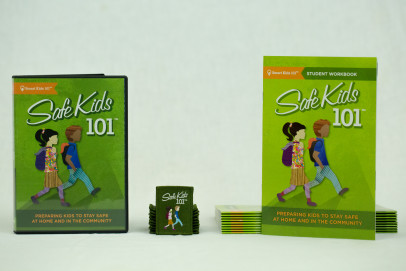 What's included:
A downloadable, printable 64-page PDF Leader Manual. This is your lifeline: a comprehensive guide with all of our tips and tricks gathered over 2 decades of teaching! It includes a script and activity ideas with flexibility that allows you to customize it over time.
A DVD copy of Safe Kids 101, the 58-minute video program
PLUS unlimited online streaming access of the Safe Kids 101 video
A starter pack of 10 Safe Kids 101 workbooks for your first class. (You can order more any time you need them.)
Supplemental materials that help you get your Smart Kids 101 business started, including advertising and branding tips and materials.
Safe Kids 101 is packed full of information and video of real kids taking care of themselves. You can even add in your own ideas, adapting your classes to perfectly suit your area. Parents will be lining up to register their kids for your amazing class!
Leader Price:
$149.95
Video Sample
Topics Include:
Responsibilities when staying home alone
Simple first aid — cuts, burns, abdominal thrusts, and more
Understanding safety in unfamiliar scenarios: home intruder, fire, and aggressive dogs
Knowing the truth about abuse, abduction, and stranger danger
Digital safety and how to navigate the online world safely, including sexting
If you teach scouts, don't forget to order fun patches for 75¢ each!
Safe Kids 101 – FAQs: