50 Fun Family Fall Activities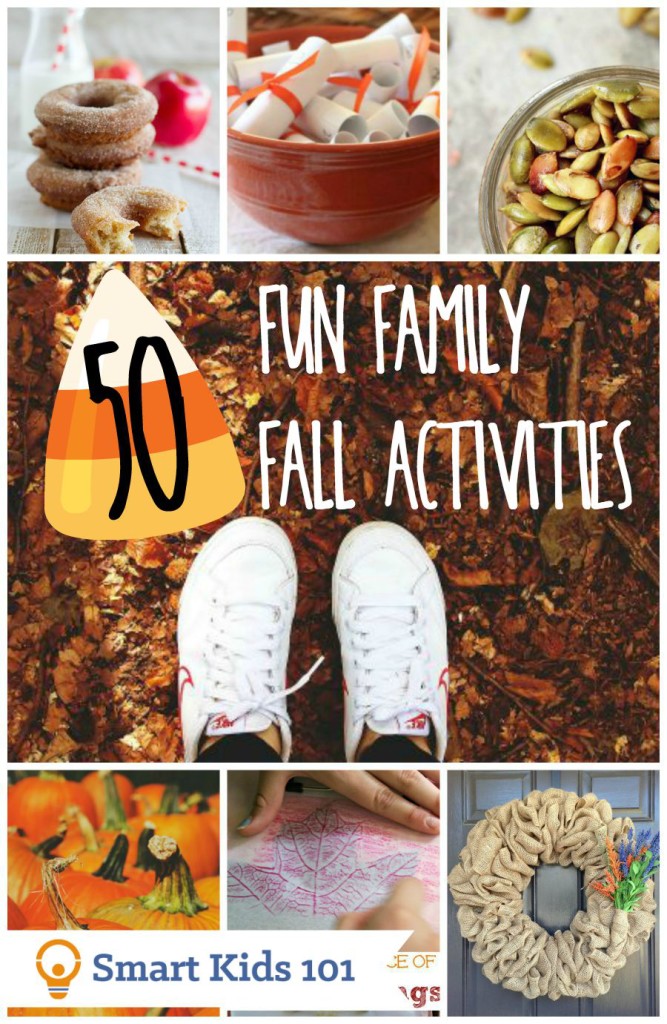 Ah, fall. I feel like I just heard everyone give a collective sigh of relief. School is back in session, the Starbucks Pumpkin Spice Latte is back on the menu, and temperatures are starting to dip here in the South — even if it's just slightly. We will take it!
Welcome, Fall. Please come in, remove your boots and cute scarf, and stay a while!
With the welcoming of fall comes all the fun fall activities to plan — bonfires, pumpkin patches, harvest festivals. It's just a great time of year for some good ol' family fun! I've surfed to the end of the internet to find the most fun family ideas, the best fall recipes, and the cutest fall crafts and decor. You are bound to find something inspiring on this list!
I will caution you, though… yes, with this list there is a warning. The autumn season has been away for more than half of the year, and now we are so ready to PUMPKIN ALL THE THINGS. You and me both. No shame.
Just please proceed with caution and do not insist to your family that you must do every one of the fall activities on this list. Bless your heart, we're all excited about fall, but that might cause the slightest bit of stress. I don't want any angry families storming my pumpkin-decorated porch. You get me? Good!
So try something new along with a couple of your annual favorites. But don't necessarily treat it as a "Fall Bucket List," or you may very well kick the bucket from an Autumn Overdose. Oh, but what a way to go!
---
50 Fall Activities for Family Fun
1. Visit a Farmer's Market
Fall is the perfect time to visit a Farmer's Market. The weather is lovely and the seasonal pickin's are good. Look for things available especially in autumn, like apples, pumpkin, sweet potatoes, and butternut squash. Shop early in the day for the best selection! Need inspiration? Check out this amazing collection of recipes for Fall Harvest Foods from the Food Network. Just watch that drooling over your keyboard.
---
2. Have a Board Game Night
A chilly fall night is the perfect time to cozy up together for a family game! Need game suggestions? If you're playing with a variety of ages, two crowd-pleasers in our home have been Blokus and Disney's Eye Found It (affiliate links.) Both are easy enough for young kids to participate, yet fun enough for the adults not to lose their ever-loving minds during game play. (Don't act like you don't know what I'm talking about!) That's what I call a win-win.
Do you have some board game suggestions for me? I'd love to hear them! Please share in the comments below.
---
3. Bake Apple Cider Donuts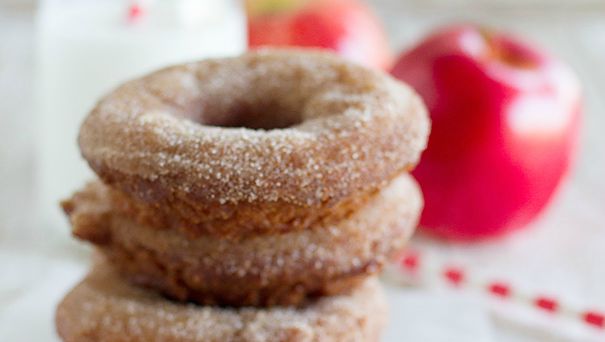 Apple Cider Donuts. Need I say more? One of my favorite fall activities is to fire up the oven with some yummy seasonal treats. So bake them, wrap them up, and share with a friend. I can't think of a better gift to say, "welcome, fall!" These just look too amazing to keep all to yourself.
photo: Apple Cider Doughnuts / tasteandtellblog.com
---
4. Make Chili
One of my favorite go-to recipes for Fall is chili! It's healthy, my family loves it, and it's quite easy to throw together.
You may already have a favorite recipe for chili. (If so, please share it with me in the comments below!) I tend to stick to a classic chili recipe, made with ground beef and beans. But this White Chicken Chili recipe caught my eye recently, and I know we'll have to try it soon. Pin it now and let me know what you think once you try it!
---
5.  Attend a Local High School Football Game
This one should be self-explanatory: grab the fam, head out to the local high school, and enjoy a football game. Buy some concessions, watch the band perform at half time, and soak in all that Friday Night Lights has to offer.
---
6. Go on a Hike (or Nature Walk)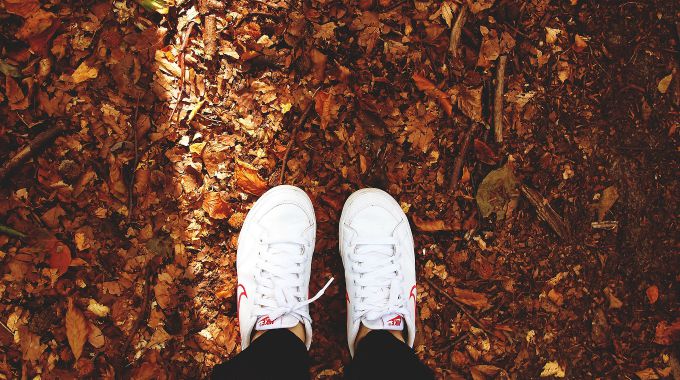 Fall is great weather for hiking: the gorgeous trees changing colors and losing their leaves, plus the cooler temperatures mean you're less likely to break a sweat in the first ten minutes! To make it more fun for the kids and keep them from getting lost in the woods engaged on the walk, play nature I Spy with them.
Have a few extra minutes? Print out this adorable Nature Bingo game before you go. You won't be sorry!
---
7. Do an Apple Taste Test
Increase your kids' fruit intake for the day the fun way: by performing an official taste test! Buy several different colors and varieties of apples and slice them up. Let your kids try each kind (blindfolded if they dare) and report back to you on the characteristics of each and which is their favorite.
If you're looking to make this into a full-fledged educational activity, be sure to get the free Apple Taste Test Printables from 1+1+1=1. They're awesome, and did I mention free?!
Looking to go Level Pro on these fall activities? Take it up a notch with the addition of dipping sauces and toppings for the apples! Try caramel, chocolate, coconut, crushed graham crackers, crushed cookie bits, and nuts (barring any food allergies, of course).
---
8. Make Cinnamon Apple Rings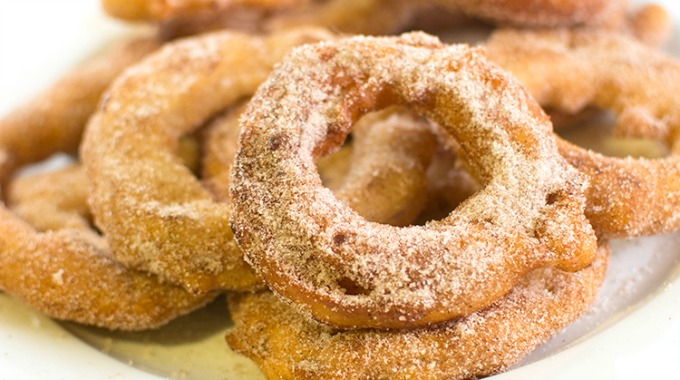 In looking for recipes to include in this post, I stumbled across what is possibly the best use for an apple that I've ever seen: Cinnamon Sugar Fried Apple Rings. Like onion rings, but not. Right?! They're battered, fried, and then dipped in cinnamon sugar. Food of my dreams. Serve them warm and for an extra delight, dip them in chocolate. Oh. My. Gracious. This is SO on my to-try list this fall.
photo: Cinnamon Sugar Fried Apple Rings / somewhatsimple.com
---
9. Read a Fall Book
Reading is one of my favorite fall activities, and libraries are one of my very favorite places. Take my advice and cozy up with your kids plus one of these awesome titles. (Or make it even easier on yourself and buy it from Amazon from one of these affiliate links. Moms + Amazon = BFF, right?)
Hooray for Fall! by Kazuo Iwamuara This book has been our jam lately. It's perfectly suited for ages 2-6, and it tells a charming story of a family of squirrels as they usher in everyone's favorite season: spring. Just kidding it's FALL!
Mouse's First Fall by Lauren Thompson is another fun little interactive story that follows a mouse as he discovers what Fall is all about. Great for younger kids!
Looking for Thanksgiving-themed books to get them in the holiday spirit? Five of our family favorites are here in the Thanksgiving Book Roundup.
---
10. Do a Family Photo Shoot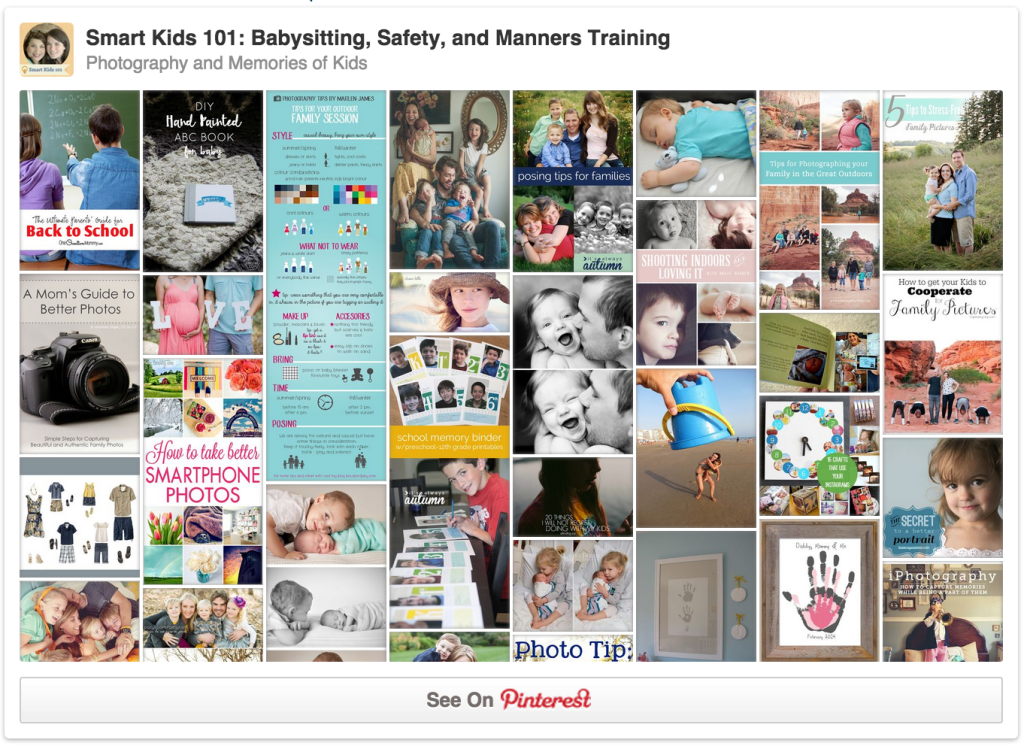 Take advantage of the lovely weather outside — and beautiful nature backdrop — and snap some family photos!
(Pssst — and dare I say it? Christmas is coming. Get those photos out of the way now so you don't have to worry about it during the busy holiday season.)
Need some ideas for how to pose or what to wear? Follow our Pinterest Board, Photography and Memories of Kids, for all the best ideas.

---
11. Make Crock Pot Apple Cider
This Slow Cooker Caramel Apple Cider not only looks delicious, but it'll leave your house smelling ah-mazing. Bonus!
---
12. Play "Thankful Ball"
Looking for something on this list of fall activities that's a family-friendly, active game? Try a playing "Thankful Ball!"
Shhh — It's just a game of catch with an added twist: before you throw the ball, you have to say one thing that you're thankful for. It'll help get your kids (ahem — and you) in the right frame of mind for this season leading up to Thanksgiving. And you'll be able to go outside and enjoy some fall weather. Yesssss.
---
13. Make Candy Corn Popsicles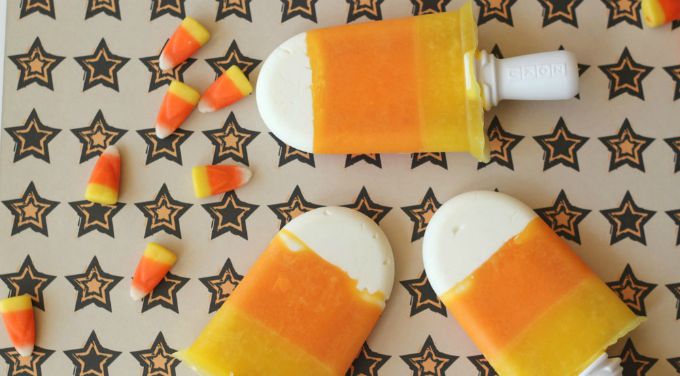 Still hot where you are? Here, too. But we can pretend with this clever idea: make candy corn popsicles! They look like candy corn, but they're much more refreshing when the weather isn't cooperating with your attempts at fall activities. Plus, they're healthy: made from just yogurt, orange juice, and pineapple juice. Beat the heat while dreaming of fall fun to come!
photo: Candy Corn Popsicles / thegirlinspired.com
---
14. Rake the Leaves
No, I promise I'm not just sneaking a chore onto this list. But you do have leaves and they do need to be raked, so let's call it serendipity. As you rake, have fun with it! Let the kids help use the "grown up" tools (be safe, of course) and pile all the leaves up in the middle of the yard. Once the pile is nice and fluffy, take turns jumping in it! This is a classic fall fun activity — and if you play your cards right, you can get your leaves cleaned up at the same time.
---
15. Do a Photo Shoot in the Leaf Pile
You've got your leaves all raked up and the kids are having a ball jumping in the pile? Great! Grab your smartphone, because these make for the best photos! Try some action shots of the kids jumping in mid-air. Also snag a photo of them laying face-up in the leaf pile with the biggest grins on their faces because this is fun and you are the best parent ever. 
And then ask them to help you rake the leaves back up and bag them, because this is your yard and they just trashed the place. Haha.
---
16. Make a Fall Wreath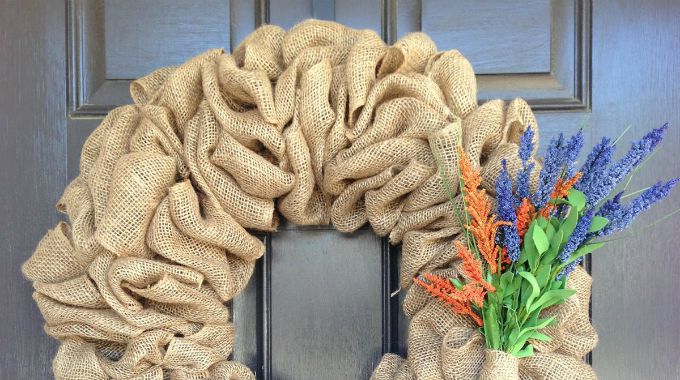 I've been looking forward to decorating my front door with a friendly fall wreath this year. I've got my sights set on a simple burlap wreath. Isn't it great? There are tons of wreath ideas and tutorials on Pinterest, so be sure to check them out. It's a relatively easy, inexpensive way to cozy up your front door and be even more welcoming this fall!
photo: Burlap Wreath / littlelovelyleaders.blogspot.com
---
17. Have a Movie Night
One of our favorite fall activities — or really all year round — is to fire up the Blu-Ray player and settle into a favorite family movie. Depending on your family's tastes and your children's ages, you might pick from some family favorites such as Mary Poppins, the original Willy Wonka and the Chocolate Factory, a Star Wars marathon, or Paddington. (Psst- Not sure about a movie's content? Check out Plugged In Movie Reviews ahead of time to avoid awkward moments.)
Then pop some popcorn, pour up some sodas, and let the kids have a treat just like at a movie theatre! This will be a family fun night you won't forget.
---
18. Visit a Pumpkin Patch or Local Farm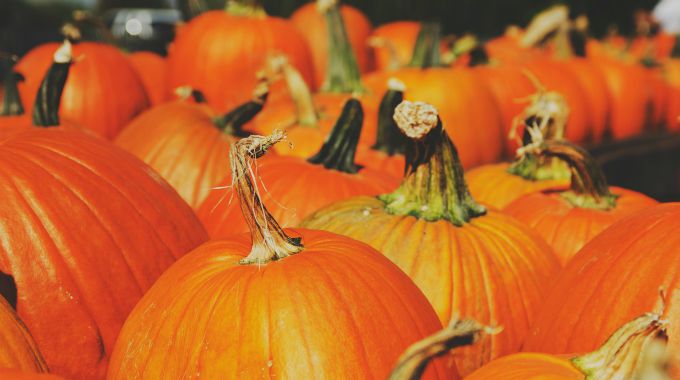 Oh, this one's a classic. Take the kiddos to a local pumpkin patch (or farm, if you're lucky enough to live near one like I am). Take some photos, buy some pumpkins to use for decorating (and eating). If you're looking for a simple way to spend time together without a lot of fuss, this is it. You're welcome.
---
19. Show Gratitude for Someone You Love
This can be simple, like taking a minute to write a thank you note to someone for what they mean to you. Or you can pick a person to give a small gift to, out of the blue. Spread some love this Thanksgiving season by showing gratitude for those you care for. 
---
20. Make Bird Feeders
Feed the birds, tuppence a bag. Or in this case, just use some leftover toilet paper rolls. I bet Mary Poppins never thought of that one!
Punch two holes in the top of the toilet paper roll and tie some scrap yarn through each hole. This will be what it hangs from, so make sure the string is long enough to go around the branch. Then have the kids slather peanut butter (as long as allergies aren't an issue!) on the toilet paper roll and roll it in bird seed. The seed sticks to the peanut butter. Birds love to eat it, kids love to make it. It's one of the best fall activities for crafty kids who care about the environment — or just love to get sticky fingers. Heehee.
---
21. Make Apple Hand Pies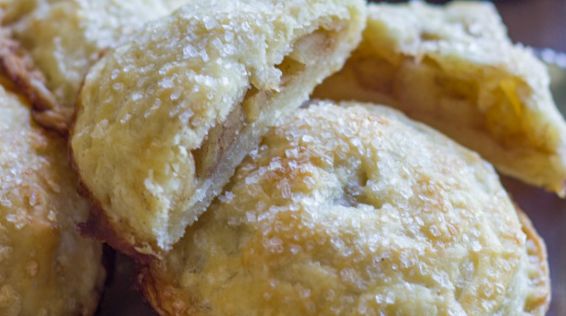 Apple pie: it's a classic.
Fall is perfect apple-picking time, and what better use for them than to make these Apple Hand Pies? Don't they look delicious! Try them out now and thank me later. 🙂
photo: Apple Hand Pies / lovelylittlekitchen.com
---
22. Find a Fall Festival to Attend
They're popping up all over the country, as we usher in the new season of the year. And these festivals are totally geared toward families, which means you'll likely find lots of fall activities all in one spot. Think: hay rides, corn mazes, and games for the kiddos. Sounds like the perfect weekend activity to me!
---
23. Make Soup and Homemade Bread
This one is making me hungry just thinking about it! After you enjoy the cooler weather, come inside and warm up with some soup.
Pair it with a homemade bread to achieve Domesticity Level 76. I always had a hard time with homemade bread until I met this recipe for Mema's Whole Wheat Bread. So yum. Do you have a bread recipe I should try? Let me know in the comments! (Not a difficult one, please — I haven't reached Domesticity Level 76 yet. 😉 )
---
24. Gratitude Devotions for the Month of November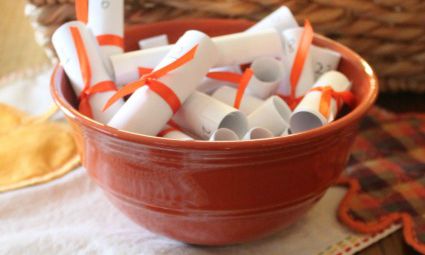 Here's one of the best fall activities to get your kids (and yourself, really) focused on what matters during the month of November: giving thanks. Frugal Fun 4 Boys has put together a totally amazing and totally free Printable Family Gratitude Devotions for the Family PDF — a daily devotional that's a free printable! Go grab it now. Did I mention it's free!?
photo: Printable Gratitude Devotions for the Month of November / frugalfun4boys.com
---
25. Go Apple Picking
If you're fortunate enough to live near an apple orchard, this is one of the must-do fall activities. Visit the Pick Your Own website to search for a place near you if you're not sure where to go. And make sure you bring a camera with you to capture more awesome photos of your fall activities. Pick enough apples to use for one (or more!) of the other apple-related fall activities on this list.
---
26. Go Backyard Camping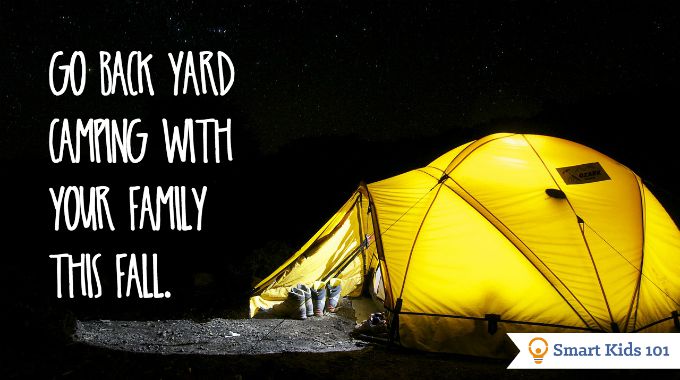 When the weather starts to dip into the cooler temperature range, camping is one of the best fun fall activities. But it's not always easy to find a family-friendly campsite or work around busy schedules to actually get away for a weekend. That's where backyard camping comes into the picture. Lots of fun, way less commitment. So set up that tent in your own backyard a place that has all the amenities of home. Literally. It's the best of both worlds!
---
27. Paint Pumpkins
When I saw this idea, I knew it was one of the fall activities I had to try this year: DIY Hand-painted Pumpkins. But not just any pumpkins, no! You use the kind you buy at the craft store so that all that hard work doesn't just get thrown out two weeks before Christmas at the end of the season. Isn't that brilliant? You get to keep them and use them again next year. And you must click through to see her ideas. They are truly lovely — not a jack o' lantern face in sight.
---
28. Learn about Leaves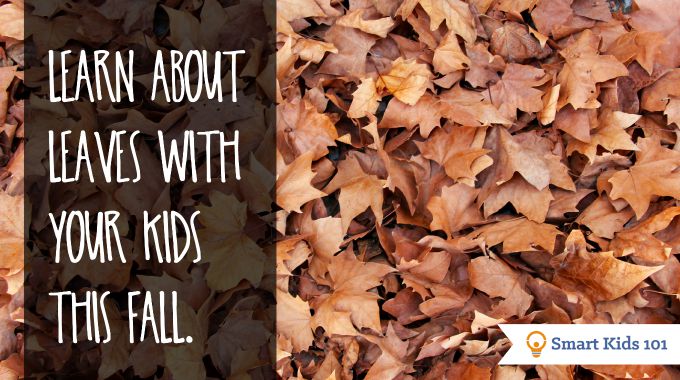 The former teacher in me loves this idea for educational fall activities: collect leaves outside and do leaf rubbings! Kids love to collect leaves anyway… why not make a little learning experience out of it? Encourage them to inspect the different parts of the leaves. Can they see the veins? What do they think those are for? 
If you're wanting more guidelines for this activity, KC Edventures has a great post on the Art and Science of Leaf Rubbings, complete with info on leaves and even a couple of book ideas to keep the learning going. Love it!
---
29. Simplify Your Home
I promise I'm not throwing in another chore on this list of fun fall activities. It just seems like seasonal transition is the perfect time to get rid of extra stuff and freshen up the home… and that makes for a happier Mom! So declutter this fall, and donate or participate in a yard sale. It's the perfect time of year to get it done!
---
30. Make Gourmet S'mores and Hot Chocolate by a Bonfire
Fall is perfect bonfire weather, so one of my favorite fall activities is making s'mores, naturally. And if you're having people over, it's only logical to make fancy smores, like some of these 12 Creative S'mores for a Party. I mean, a Fluffernutter S'more? A Strawberry Banana S'more? How is this even legal?!
---
31. Do a Service Project Together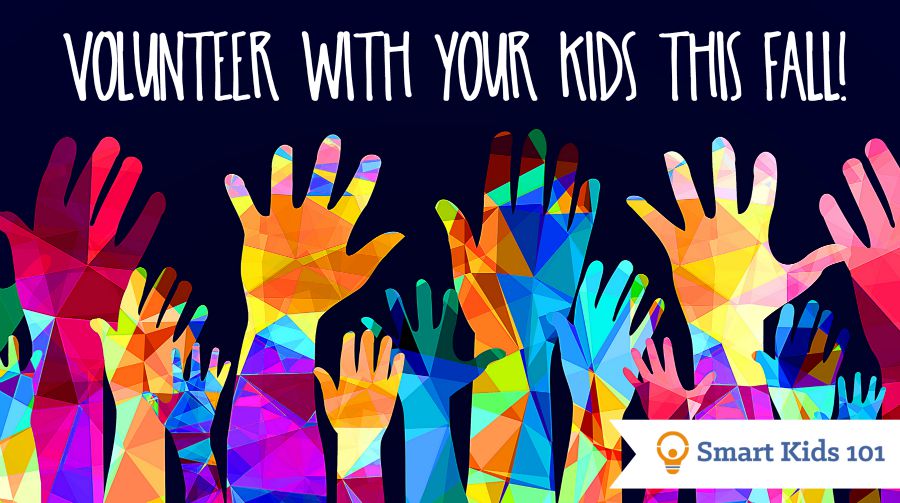 That's right — volunteer with your kids!
Once your kids are a little bit older, it's a great idea to include them in "giving back" to the community. Whether you volunteer at your local soup kitchen or work together to make Operation Christmas Child boxes, be sure you talk to your kids about why you are volunteering together. Instill the importance of helping others as you recount your own personal blessings this season!
---
32. A Giving Thanks Activity for Kids
Sometimes it's easier to write down what you're grateful for rather than being put on the spot to say it at the dinner table. If that's the case with your kids, consider creating a family "gratitude jar," where you each write what you're thankful for and place it in the jar. Reading them aloud on Thanksgiving day could be a fun way to spend a little time talking about what you're grateful for — without putting anyone on the spot.
---
33. Have a Thanksgiving Photo Booth at Your Family Gathering
What could be more fun for family photos at Thanksgiving than having some printable "props" to liven things up? These FREE printable Thanksgiving photo booth props are perfect for any fun-loving family gathering.
---
34. Go for a Drive when the Leaves Change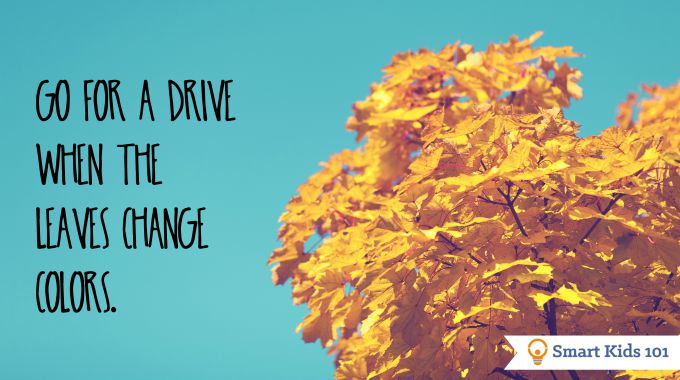 Here's one of the most simple fall activities you can do: take a drive together as a family to observe the beautiful trees as their leaves transform. No need to plan for a hike or a picnic, just hop in the car with some tunes on a Sunday afternoon and see what you can discover! Make sure to bring a camera or phone to capture those truly majestic views.
---
35. Donate Cans of Food to a Local Food Bank
This one is a simple way to give back. You can explain to your kids what a food bank does — how some people and/or families need extra food, and a food pantry collects donations to give to them so they won't be hungry.
Then, depending on your kids' ages and maturity, have them help out. They might be able to collect donations from friends, family members, and neighbors. Or younger kids might be excited to pick up a few extra items at the grocery store on your next trip. Then find a collection location and go with them to donate the items.
It's a simple way to make sure the food banks are stocked up for the coming winter.
---
36. Decorate Your Home (and Front Porch) for Fall
As we're talking about fall activities, don't forget your own home! Freshen up your mantel for fall or decorate your front porch. It's the little things that make us smile and remember how glad we are that Fall is here… so welcome some of that warmth into your home!
Set out pumpkins and mums, and bring in some natural wood and burlap elements for a quick fix that will continue to fill your heart with joy! And if you need something to decorate with, try a cute craft like these Rustic Pallet Pumpkins with Mini Bunting. Totally adorable for fall!
---
37. Make Mini Caramel Apples
One of my favorite treats ever is a good caramel apple, so when I saw these Mini Caramel Apples I knew I had to include them! This time of year is perfect for picking apples, and I can't think of a better use than to make these tiny treats together with the kids as one of your fall activities. Plus, this recipe boasts less mess than your typical caramel apples — see how she does it at the link. Then make these for your next get-together, because they look like a certain crowd-pleaser.
photo: Fast, Easy, No-Mess Mini Caramel Apples / thriftylittlemom.com
---
38. Do Turkey Handprints
Please tell me I'm not the only one who gets excited about this fall activity. I have great memories from doing these when I was a kid, so I guess that's part of why I love it now. Plus it's one of the less messy, more simple fall crafts you can do. That's always a plus in my book!
Simply help your child trace his hands on a piece of paper. Then let him color it to turn it into a turkey with the fingers as feathers and the thumb as the turkey's head. Then frame that sucker, because his hands will never be that small again. Sob.
---
39. Make Chocolate Peanut Butter Acorns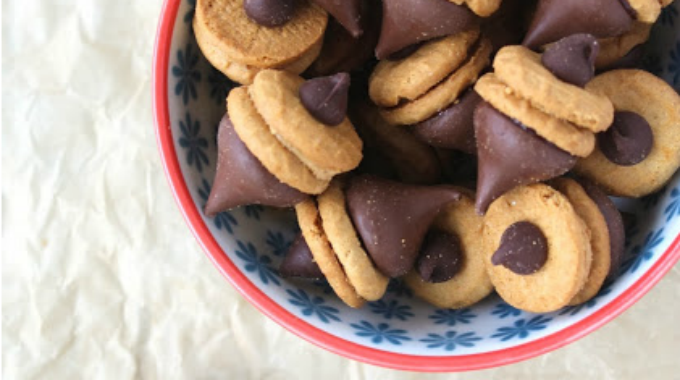 This is one of the fall activities that is fun to do with kids. Make Edible Acorns from mini Nutter Butter cookies, Hershey Kisses, mini chocolate chips, and chocolate frosting. The peanut butter/chocolate combo is one that can't be beat (unless you have food allergies — then substitute with a mini Nilla wafer), and the little acorns are irresistibly fun! Make them before a get-together, because these can be very addicting!
photo: Edible Acorns / spoonfulofflour.com
---
40. Make a Fall Snack Mix and Share
This is one of the fall activities that is great for all ages — even small kids can help you dump ingredients together and mix it up!
Customize your own mix with these ingredient ideas:
Chex Mix (store-bought or make your own): I like to start with this as a "base."
Candy corn
Yogurt raisins
Bugles
Chocolate or butterscotch chips
Reese's Pieces
Goldfish or Cheez-it crackers
Almonds or cashews
Craisins
Ritz Bitz
As long as food allergies aren't a concern, it would be fun to divide the mix up and deliver to friends, neighbors, and teachers as a delicious little fall treat!
---
41. Learn to Crochet or Knit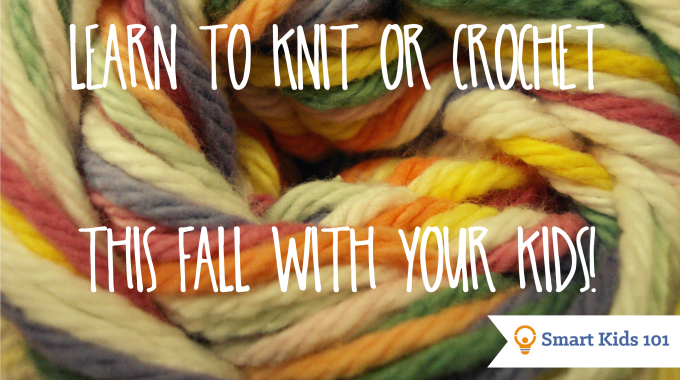 A lesser-known fact about me, at least for those of you who don't know me IRL yet — I love to knit. I can often be found passing the time by working on my latest project. And fall is when my love for this hobby is renewed. There's something so cozy about it. Have I convinced you yet?
Ravelry is one of my favorite sites for knitting and crocheting, because they have TONS of patterns available and many are free. Set up a free account, and I promise you won't be disappointed.
There are tons of videos available on YouTube — again, for free — like Purl Soho, Very Pink Knits, and WEBS Yarn Store. It's like getting free knitting lessons! Any time I don't understand something a pattern tells me to do, I simply search for it in YouTube and learn how. It really couldn't be easier.
To get your kids excited about learning with you, read a couple of books together like Extra Yarn by Mac Barnett (a total favorite of my daughter's!) and Annie and the Swiss Cheese Scarf by Alana Dankos (affiliate links). Comment below and let me know what you make!
---
42. Make Fall Scented Play Dough
Here's a fun twist on a childhood classic: make your own play dough, but color and scent it according to the season. Pumpkin pie spice, cinnamon, and nutmeg all have wonderful scents that would be perfect for some festive play dough! Check out 5 Senses Fall Playdough for ideas on how to incorporate all 5 senses into these fall activities!
---
43. Paint Trees
The fall leaves are so inspirational, doncha think? The colors are just glorious! Encourage your kids to capture that beauty in one of my favorite fall activities: painting trees!
This is something younger and older kids alike can enjoy. Make it easy with one of these awesome ideas:
---
44. Roast Pumpkin Seeds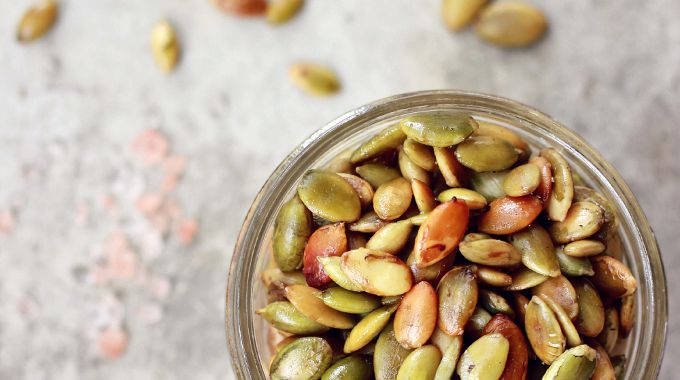 Looking for a clean eating, healthy fall treat? Well, here's something you don't get to do any other time of year: roast pumpkin seeds! You can scoop them from the pumpkin yourself or buy the pre-hulled variety at the grocery store. Follow these instructions on How to Roast Pumpkin Seeds 2 Ways, and pick your grain-free, refined-sugar-free treat: sweet or savory?
photo: How to Roast Pumpkin Seeds 2 Ways / thecleandish.com
---
45. Go to the Park
Simply enjoy the fall weather with your family by heading to the local park with a picnic meal. Add in a game of frisbee or tossing a football back and forth (no tackling!) to round out the family fall activities fun.
---
46. Do a Popcorn Science Experiment
This is one I'd never seen before, but it's just perfect for fall! First, get a dried corn on the cob. That's right — you can buy them dried. Am I the only one who didn't know about this?
Then you stick it in a paper bag and microwave it. Lo and behold — it pops, just like regular dried popcorn kernels. But it's 100% cooler. Your kids will love seeing what happens. Make sure you ask them to predict what they think might happen before you do the experiment. That's right. It's science. Edible science.
Check out the full instructions here for How to Make Popcorn on the Cob.
---
47. Bake Pumpkin Chocolate Chip Muffins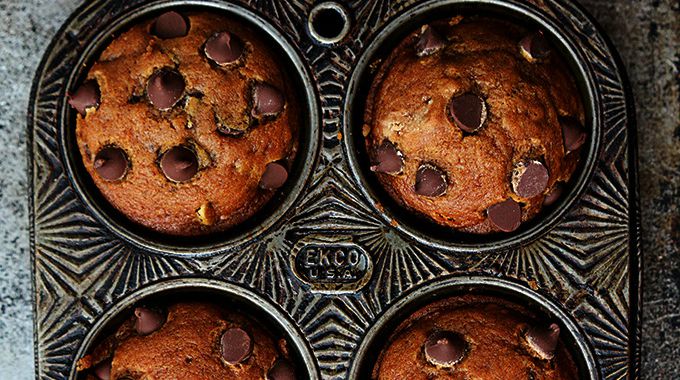 Here we have one of my favorite fall activities. (I'm saying that about a lot of these, aren't I? But I love fall so much, it's always true!) Pumpkin chocolate chip muffins are one of the best recipes to get me into the fall spirit. Maybe you feel the same way? I always start out the season by baking a big batch so I'll have extra to freeze. Yummmm.
photo: Pumpkin Chocolate Chip Muffins / lecremedelacrumb.com
---
48. Visit the Zoo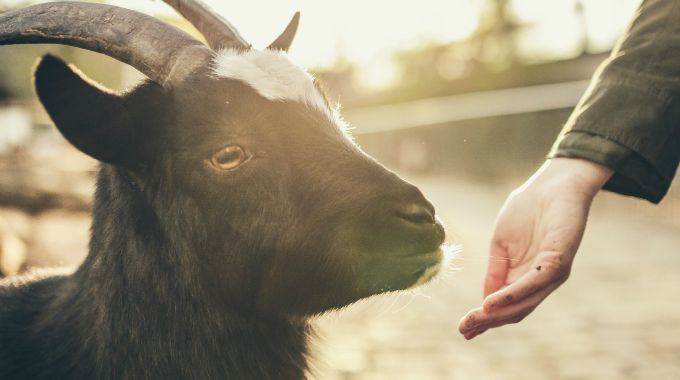 Take advantage of cooler temperatures and go for a visit to your local zoo! The animals are a lot more active than in the dead heat of summer, and you also won't have to sweat your way through. Perfection!
---
49. Go On a Geocaching/Letterboxing Adventure!
Here's a fun way to enjoy the great outdoors this fall: go on an adventure together. Whether you try geocaching or letterboxing, you'll be sure to have a great time with your kids. It's one of those fall activities that is really suitable for all ages, so it would be great for sibling groups that might be otherwise difficult to please. Go exploring! And don't forget your camera!
---
50. Bake a Pie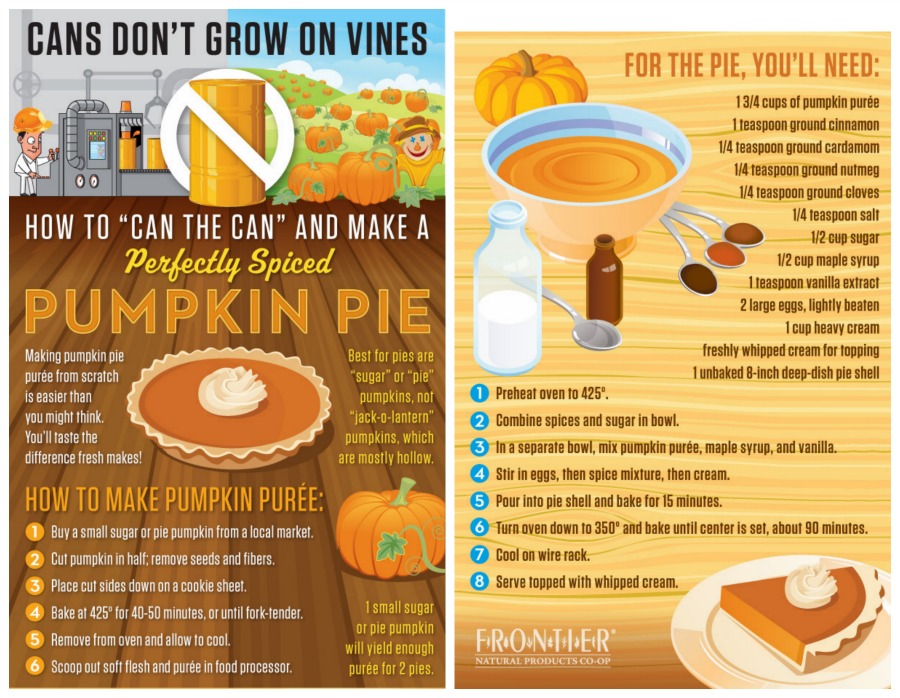 Hey, y'all, let's pie it up! There are so many amazing flavors associated with fall. Why not celebrate those flavors with pie? (Life tip: anything can be celebrated with pie.) Apple, pumpkin, pecan… take your pick and get to baking! Who says pumpkin pie is just for Thanksgiving dinner?
photo: How to "Can the Can" and Make a Perfectly-Spiced Pumpkin Pie / frontiercoop.com
---
So that's the list. You found some fall activities you want to try, right? Let me know what you're going to do — and share your photos with us as you go. Just tag @smartkids101 on Instagram so we can see what you're up to! It's gonna be a great season!
Happy Fall, Y'all!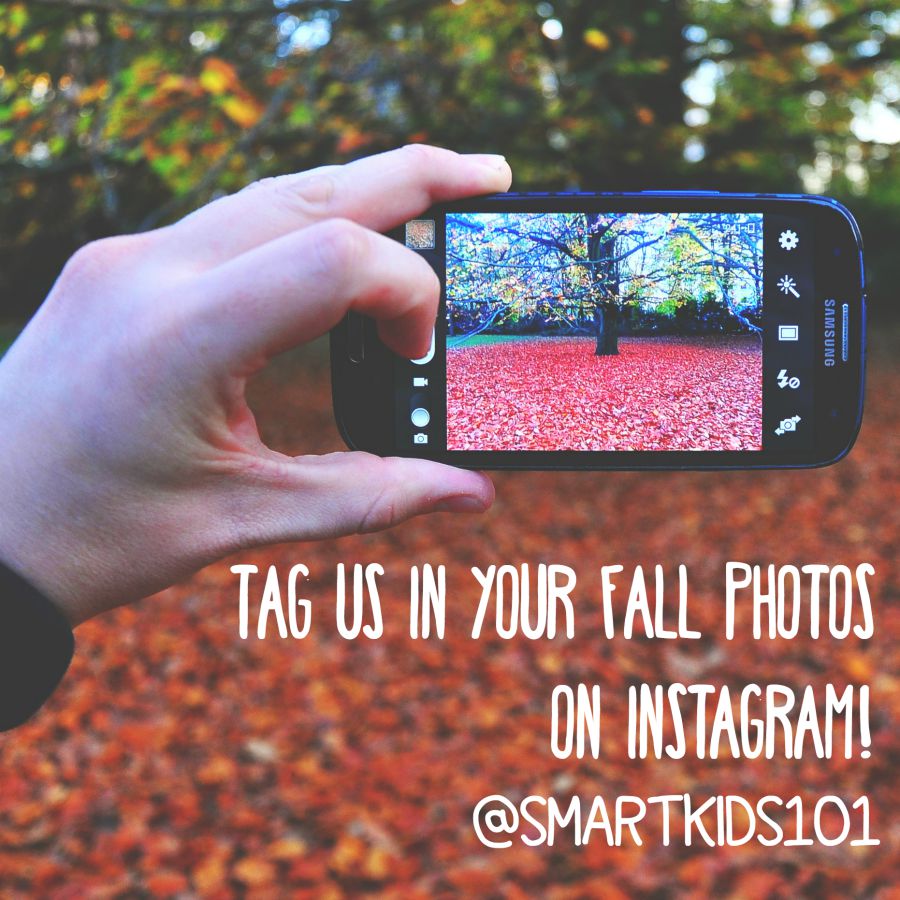 ---
READ NEXT: Courteous Kids During Thanksgiving Prayer